St Andrews Day
In dancing breeze, a random scuttling of dry leaves, tickles tarmac in sunshine and shadow.
 St Andrew's Church
 Was a significant part of my life growing up. The saint's day now even more notable as it reminds me of my deceased parents. We would go to church every Sunday, as often as we could. Sometimes Dad was on night duty or early turn and Mum would hurry my brother and I into our Sunday best, (jacket, even a tie – yuk!) and we would take the bus to Orpington.
The building was thought by many to resemble more of a warehouse than a church; perched on the ridge of its roof a small bell that used to be rung 100 times before every service. After being confirmed, Tim and I took on the roles of crucifer or acolyte, while Dad was MC or thurifer.  There were also Saturday mornings at 7 when one of us might be the sole server with the vicar, as he offered communion in an otherwise empty church.
The floor tiles cold, the stained glass a little short of inspiring, the taste of the thick smoke of incense, the stations of the cross a permanent reminder of the Litany of Lent and Good Friday. An odd experience one Saturday during a garden party, with a stranger inside the church, recounted in my poem, Sacristy (see When the Change Came). Later, at university, delighted to be intimate with the eldest of a family of girls I knew from church.
Since the last blog
How the world changes in 30 days…
Halloween
Trump!
Croydon tram crash
Trump! President Elect!!
Indian train crash
Trump!
Mum's funeral
Trump!
Book published – When the Change Came
Trump!
Plane crash
Trump!!!
And always the great tragedy which is Aleppo…
Trump! The end of an era for the world, while another era ends for our family. She's gone. There's no going back. No last words of comfort. Her ending is over.
The cut flowers from the funeral soak up the rain on the garden table, the decorative spray gradually decaying, while the wicker casket and its contents have long been turned to ash. Ash which I collect, for a temporary stay at home, with a view to spreading over his on the field by the cross.
Now no one left to seek approval from. Just a fist where my heart should be, and a length of uncertainty, like a rope knotted through my core.
When the Change Came
For all who know me…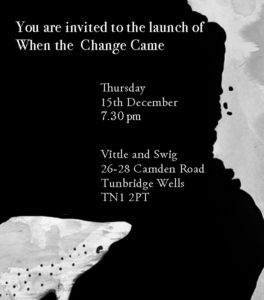 RSVP
Blog – St Andrew's Day – 30th November 2016