Planet Earth and Mental Health
As a mental health charity, we are aware of the significance that nature plays in helping people feel better and re-take control of their lives after a mental health crisis.
 Tunbridge Wells Mayor's Charity 2018-2019, Mental Health Resource.
The Mental Health Resource wrote those words in response to my long poem: Gaia2020, a poem which celebrates the life of the planet, and laments for losing life. Our lives on this world are precarious, and yet we are integrally connected with all that is.
The story begins with waste, with the millions of tons of household, commercial and industrial waste we produce in this world, every minute, every second. Waste that we expect the environment somehow to absorb, through landfill, incineration or dumping.
Now we are more acutely aware of the damaging impact of plastics. But there are many other kinds of waste which may be equally, or even more, harmful. Think of the long-term effects of waste electrical and electronic equipment for instance, and the potential for toxic metals polluting water supplies.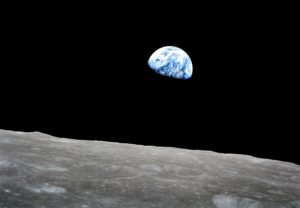 As a child, I first saw the original photo of Earth from the moon when I was 8 years old. It was featured in an amazing colour supplement that my father brought home: the Earth rising over the moon's horizon, Earthrise.
But today stories of environmental degradation abound. Palm oil plantations ripping the heart out of tropical rainforests. Palm oil used in so many products that we continue to consume with a furious abandon.
What can we do, once we have understood the connections between what we buy and what is exploited, or dies, at the other end of the supply chain? Is there an alternative? We must keep on asking the question.
Our personal footprint, our carbon footprint? How do we change that? The Sustainable Development Goals have some simple, and not-so-simple suggestions. The seventeen goals by 2030, and the colourful, graphic icons, (which were popularized by Project Everyone), are:
No poverty
Zero hunger
Good health and well-being
Quality education
Gender equality
Clean water and sanitation
Affordable and clean energy
Decent work and economic growth
Industry, innovation and infrastructure
Reducing inequalities
Sustainable cities and communities
Responsible consumption and production
Climate action
Life below water
Life on land
Peace, justice and strong institutions
Partnerships for the goals
Simple steps we can take can be found in the UN's Lazy Persons Guide to Saving the World
The Sustainable Development Goals are important, world-changing objectives that will require cooperation among governments, international organizations and world leaders. It seems impossible that the average person can make an impact. Should you just give up?
No! Change starts with you. Seriously. Every human on earth—even the most indifferent, laziest person among us—is part of the solution. Fortunately, there are some super easy things we can adopt into our routines that, if we all do it, will make a big difference.
The simple things 'you can do from your couch' (although that's not necessarily a healthy perspective) include:
Save electricity by plugging appliances into a power strip and turning them off completely when not in use, including your computer.
Stop paper bank statements and pay your bills online or via mobile. No paper, no need for forest destruction.
Share, don't just like. If you see an interesting social media post about women's rights or climate change, share it so folks in your network see it too.
Speak up! Ask your local and national authorities to engage in initiatives that don't harm people or the planet. You can also voice your support for the Paris Agreement and ask your country to ratify it or sign it.
Don't print. See something online you need to remember? Jot it down in a notebook or better yet a digital post-it note and spare the paper.
Turn off the lights. Your TV or computer screen provides a cosy glow, so turn off other lights if you don't need them.
Do a bit of online research and buy only from companies that you know have sustainable practices and don't harm the environment.
Report online bullies. If you notice harassment on a message board or in a chat room, flag that person.
Stay informed. Follow your local news and stay in touch with the Global Goals online or on social media at @GlobalGoalsUN.
Tell us about your actions to achieve the global goals by using the hashtag #globalgoals on social networks.
In addition to the above, offset your remaining carbon emissions! You can offset your carbon emissions at CarbonFootprint
Of course, there is so much more. Is it sane to care passionately about Mother Earth. Of course. Is it sane to be affected profoundly by environmental concerns? Of course. But this concern can spiral into worry, a sense of powerlessness, anxiety or depression. Our mental health can be affected by what we know about the health of the planet.
None of us, surely, want to see the death of our planet. Sometimes, it's worth reminding ourselves of the view from the rest of the universe. Although Earth orbits the sun, since the birth of the solar system, we have never revisited the same point in space. Our galaxy, the Milky Way, is travelling at 600 km every second, or1.34 million miles per hour!
We are as much a part of nature, as nature is a part of us. For more on the positive effects of nature, visit Nature and Mental Health, on the Mind website.
We all need to think of the future of the planet, and all who live upon it, and to have those thoughts uppermost in our minds. Equally, for our own health, we need to be aware of who, and what we are, and be grateful for the power, and the peace, the universe has to give.
++
Steve Walter has performed shows at the Brighton and Edinburgh Festival Fringes, with spoken word, music and song, since 2008 based on his first book: Fast Train Approaching… a memoir, and later, drawing on other people's stories in Voices; mental health survivors, carers, therapist, family and friends (both published by Chipmunka). His second pamphlet of poetry, When the Change Came was published by Indigo Dreams in 2016, and his long poem, Gaia 2020 was published by Making Connections Matter in 2018.
Blog – Friday 7th December 2018 – Planet Earth & Mental Health