The Guardian in June, lists the 71(2) on its front cover…
The tower in Spring light! The Horror! Even now…!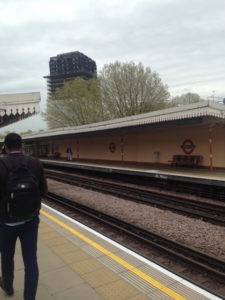 Poems for Grenfell Tower was published on 30 March 2018 by The Onslaught Press. At the suggestion of Grenfell United, all royalties will go to the new Grenfell Foundation. This should amount to about £5 per book (half the cover price of £10). Book launches are planned around the UK over the next few months, including two in London in April. For details, see Events on the FaceBook page: 
www.facebook.com/grenfellpoems
The book includes poems by well known poets like George Szirtes, Michael Rosen, Medbh McGuckian and Anne Stevenson. Others have links with the Grenfell community such as the former head of a local nursery school, an Ethiopian exile who lost many of his neighbours in the disaster, a Big Issue seller and a firefighter who attended the inferno of 14 June 2017.
You can purchase the book online via the link below. (Please ignore the 'Temporarily out of stock' notice which results from print-on-demand).
Professor Luke Bisby – ignition of façade materials
Dr Barbara Lane – fire protection measures within the building and extent to which they failed
Professor Jose Torero – fire spread throughout the building
Colin Todd – statutory and regulatory requirements in force over the lifetime of Grenfell Tower
and more to tell of the indictment of image over safety…
Grenfell – One more June day! Poems and the inquiry…