EARTH DAY INVITE
You're warmly invited to the launch of GAIA. Being. Alive and Horizon 2040 – the beginning, on Earth Day, Saturday 22nd April at Sankeys' upstairs function room Tunbridge Wells, from 7:30pm.
Dear friends, yes it's a launch party, for the collection of my most environmental poems and the beginning of a story… Join us for a relaxed evening of poetry and music with Steve Anthony and David Walter and Open Mic.
The book by Steve Walter, which is two books in one, with paintings by Jo Walter, will be available on the night for only £10 (rrp £14). (A proportion of any profits from sales of the book will be donated to Tunbridge Wells Friends of the Earth.)
I'm delighted to share the Foreword by Ian McLachlan of Poets for the Planet – see below…
RSVP Please reply to: steve@makingconnectionsmatter.org and also let me know if you'd like to take part in the Open Mic.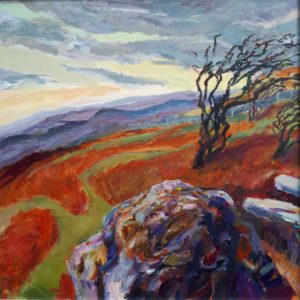 Foreword by Ian McLachlan (Poets for the Planet)
We may not care to admit it, but the economic and political system which, over the last few centuries, has lifted our living standards to an unprecedented degree, is now driving us towards extinction. By the end of 2022 we had used 1.7 Earths. This overconsumption is obviously unsustainable and is contributing to climate, pollution, and ecological crises.
The climate crisis will, according to the Royal Society, threaten food and freshwater supplies, coastal infrastructure, and the welfare of all those living in low-lying areas.
The pollution crisis causes almost a fifth of deaths globally via air pollution, and by 2050 we could find more plastic (by weight) in the ocean than fish. Here in England, the Environmental Audit Committee last year warned that not a single river had received a clean bill of health for chemical contamination. And the pollution crisis is also accelerating the sixth mass extinction, an ongoing extinction event of species as a result of human activity which risks collapsing our entire life-support system.
In response to such existential threats and the toll they take on our physical and mental health, what can poetry do? What can stories do? They can, I think, as this collection by Steve Walter demonstrates, give us room to face up to these threats and to our own role in perpetuating them. Steve surely connects with many of us 'penitent sinners' when he lists the ways he harms (and also helps) the world (Friend of the Earth, an Apology).
But for meaningful action, it's not enough to acknowledge a problem intellectually. We also need to apprehend it emotionally. With its love songs to the planet, accounts of such remedial activities as tree-planting and litter-collecting, knowledgeable poeticising of the Earth's geology, and transition between adult mental breakdown and nature-enriched childhood, this collection helps convert the scientific miracle of the planet and our existence on it into an emotional currency we can all understand.
Read it too for its gentle call to arms. "Rebel against greed, greed, greed" Steve tells us in Rebel XR now "we've learnt how to fight!" (Epitaph for a Generation). Victory though over our planet-devouring system is uncertain, and this collection is wise enough to leave space for doubt. How many of us have felt like just "a dreamy ol' geezer" (21st Century Blues) who can do little more than "cry, cry, cry" (COP 26)?
A central motif is the importance of family. GAIA. Being. Alive. features poems by Steve's father, Ted Walter, who is quoted as climbing the branches of trees "as into the arms of parents". We don't just come from our mother and father, Steve helps us to appreciate, we also come from the Earth.
The Earth then is our ultimate parent. The Earth is our family. When considering our relationship with this parent, Steve invites us to ask perhaps the most pressing question of our time: "when I die, what will I have done for you?".
Ian McLachlan
February 2023
Visit: poetsfortheplanet.org.uk
Ian McLachlan is a writer, environmental activist and founding member of Poets for the Planet. His ecopoetry show Earthsong, which he co-produced, hosted and performed at, featured 18 poets from five continents performing in 11 different languages at COP26, the United Nations Climate Change Conference in Glasgow. Social media: @ianjmclachlan
GAIA. Being. Alive – Book launch 22nd April 2023