He is sitting at a pub bar, tapping out thoughts on his phone with his thumb – the measured, red blink of the break glass point on the wall, constantly monitoring for signs of smoke, of fire.
+++
Remembering that sad moment earlier in the week when Radio 4 news were about to report the story of a man who'd died swimming the channel… "Sorry I can't bring you that report" the news announcer said after a long space of silence, of dead air…Nick Thomas had been swimming for 16 hours…
+++
In stark contrast there were celebrations for the 18 yr old Lachlan Smart who flew solo around the world in 10 weeks (reminding me of Mark Beaumont who cycled around the world in 6 months). Let's here it for the Millennials! Youngsters achieving. How they will take over the world, but what have we left for them?
+++
We visit the Tunbridge Wells Arts Society to collect a painting, only to find a single artist  drawing in an empty room surrounded by his art, his paintings, charcoal, pen and ink. A beautifully crafted sketch – Joanna nude.
There are artists in my family. I've aspired, but failed, to reach the perfection of their art, I can only trace (burn) its outline on (in) my skin through the hours of every day.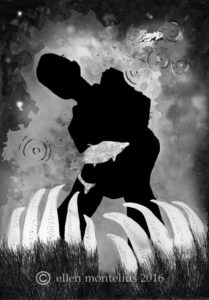 A dear friend, Ellen Montelius, also an artist and illustrator, has let her imagination loose on the brief (from the blog a couple of weeks ago) for the cover of my forthcoming collection of poems: When the Change Came… The bear looking into the reflection of a man. (White-Clawed Bears really do exist, but they're rare.)
Awaiting comments from the publishers – Indigo Dreams…
+++
An article the other week suggested that researchers are closer to understanding depression. They have discovered an effect linked with the immune system. See this story of Hayley Mason, and work by Prof Ed Bullmore, the head of psychiatry at the University of Cambridge.
In determining what affects mood, do we lose sight of the whole picture. What comes first, the thought, or the biochemical reaction? This work would suggest the immune response, but there are endless questions to answer.
+++
The first pictures arrive from the tiny spacecraft, Juno, passing Jupiter at 140,000 miles an hour…at only 2,500 miles from its surface…we may wonder. Travelling in the footsteps of Ulysses which passed by, but not so near, in 1992. These distant loners remind me of The Lone Piper.
+++
See Fast Train Approaching… and Voices: mental health survivors, carers, therapist, family and friends
Blog – Friday 2nd September 2016