Hospital
In this huge complex of decorated concrete, I am interested in only one person: Mum. Of course, everybody else here, has a loved one in their heart. Today I bring honey which she asked for by special request yesterday. But she is asleep.
And I keep on writing, writing out my fears, working through emotion – desperate for her final resolution to be a comfortable transition.
By coincidence, there's a conference in a fortnight on Palliative and End-Of-Life Care Somehow I keep on getting invites! But, as I have said before, we need to rediscover a powerful ritual for death in this world. One which embraces the sick, the wounded, all family and friends.
In many ways it has become even more critical as we witness the passing of loved celebrities, who take our hearts with their fame and whose death signals, like some talisman, our approaching demise.
+++
As you may have noticed, it was World Mental Health Day on Monday 10th October. I sent a note round at work to let people know. But I didn't send links to my personal website or list the details of my books…might have been career limiting…at this stage.
However, my delightful new niece-in-law, Polly Walter, came forward and wrote a lovely and strong, reflective piece about her experience of depression.
And the Liberal MP, Norman Lamb, put forward an Early Day Motion calling for mental health first aid in the workplace, something mentioned in my blog earlier in the summer. The Motion was for MHFA to become a legal requirement in the workplace, as for physical first aid. However, Early Day Motion 505 had only 22 signatures. Where will this idea go to next?
It was reported in the HR Review that 'Almost half of UK workers know someone who quit work because of stress'
Recently (3rd) Business in the Community (BITC) launched their Mental Health at Work Report 2016
Employers need to recognise the scale of poor mental health in the workplace and take significant steps to reduce the risk of their workplace being a contributor.  Employers have a duty of care to their employees to respond to mental ill health just as they would to a physical illness.  
 Organisations should equip their managers with the tools, support and organisational culture they need to do their job well, which must include managing employees with mental health issues. It makes good business sense to foster a culture of openness that supports employees with a mental health issue to work and stay in work. 
+++
I met my old friend Dave today and we visited Country Sports as he was browsing for a jacket, 'to walk the dogs', toying with one for £500 because 'money doesn't mean that much anymore'. He was given ten months to live in May. Not able to eat all of his Moody German burger in the Lava Bar. Pancreatic cancer. Mini Cooper. More to follow…
I'd not seen him for over 10 years. We shared childhood. When he moved away to Saltdean we swapped summer holidays. Adolescence. Yesterday.  (Will remember the 'selfie' next time…)
+++
A new cloak for Bandit…
Girl Bandit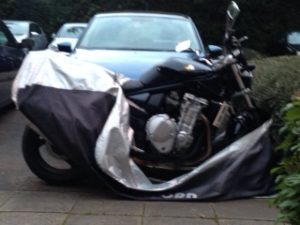 Look at you this morning,
half stripped
after the storm
your cover torn
from wing mirror
to crankshaft,
peeling back
across the seat,
your number plate
and exhaust, exposed.
Blog – Friday 14th October 2016